Install Microsoft Outlook Express Free
Outlook Express 6 (OE6) for Win7/Win8/Win10
Outlook Express 6 (OE6) for Windows Vista,Windows 7,Windows 2008,Windows 2008 R2,Windows 8,Windows 2012, Windows 10
If you have tried Outlook 2010/2007/2003, Windows Mail, Windows Live Mail, Thunderbird, Becky, The Bat, Foxmail, Dream Mail .., and still love Outlook Express 6, and still think it's your favorite email client, then this is the solution for you.
HOW IT WORKS:
The reason that OE6 cannot run in Win7 or newer system, is Microsoft make some OE6 core DLLs incompatible, something called 'DLL HELL'.
Mainly these files: inetcomm.dll, msoert2.dll, msoeacct.dll, directdb.dll.
However, we cannot simply replace the system DLLs because that may make system or some applications stop working.
So the trick is to let OE6 load old DLLs in current directory when running, and leave system DLLs untouched, then everything should be ok.
The way to let this happen is to hijack NtQueryValueKey of ntdll.dll for OE6 process, then change the return Path to current directory if needed.
Microsoft provide a free tool to do this kind of job, so we just use it: Detours.
HOW TO USE:
1. extract the zip file to a directory
2. run setup.bat as administrator, login as 'administrator' account is recommended, any other user account is not 'true' administrator
3. For Win7, if you want to save password, you need to replace Protected Storage service with writable version;
For Win8, Protected Storage is removed completed but seems you don't need it
4. start msimn.exe
5. for win10 and common issues, check Comments below the article (if you can't see comments, try sign in with google account at first)

Version 0.5:
Re-extract all files from XP SP3 with all latest patches applied
Set msimn.exe to XP3 compatibility
Add proper registry entry for eml and nws
Add Build.bat script to help you extract localized copy from XP:
1) Install new XP SP3
2) Copy and extract my 7z file to the XP
3) Run build.bat
4) You localized copy is in build directory
Fixed issue: OE can't start on newly installed OS because directdb.dll is not registered in setup.bat
Version 0.3:
Add Windows 8 and Windows 2012 support
Version 0.2:
Fixed issue: 'The command failed to execute' error when opening attachement; attachment cannot be saved
Fixed inproper 'HOW TO USE' steps
Version 0.1:
first release
Subpages
(1):
Writable Protected Storage Service for Win7
OE6.v0.2.7z
OE6.v0.3.7z
OE6.v0.4.7z
OE6.v0.4.Ita.sp3.zip
OE6.v0.5.7z
ProtectedStorage.v0.2.7z
ProtectedStorage.v0.3.7z
If you are wondering what happened to outlook express for Windows 7, you are not alone. This must be one of the most frequently asked questions about full e-mail clients on Windows 7.
We'll come to a solution for the popular free mail program for Windows 7 in a minute, but allow me to explain that many people rely on a web-browser, 'online' incarnation as e-mail solution for their e-mails. There are of course lots of people who have been using Outlook Express on their Windows XP computer for quite some time. For those it can be frustrating to learn that their preferred e-mail program is no longer available once they have upgraded to a Windows 7 computer.
Microsoft Outlook application is free to download and offers easy-to-install, easy-to-use, secure, and reliable Messaging and Chat applications. This application's primary functions are comprehensive and go beyond the features offered by others that can be considered as its rivals. Download Outlook Express - E-mail program that is fully integrated with your OS. It has support for News Groups, LDAP, POP3, IMAP, SMTP and Hotmail e-mail service. Microsoft Outlook provides seamless inbox management that enables you to stay connected on the go. Outlook includes Office, Word, Excel, PowerPoint and OneDrive integrations to help you manage and send files and connects with Teams, Zoom and other video calling providers without hassle. Outlook for iOS works with Microsoft Exchange, Office 365, Outlook.com (including Hotmail and MSN), Gmail, Yahoo Mail, and iCloud. To make an in-app purchase of a Microsoft 365 Family or Personal subscription, open the app, go to Settings, and tap on Upgrade next to your Outlook.com or Hotmail.com account.
If you have been using Outlook Express as your e-mail client, you might be wondering why Microsoft has decided to not continue this e-mail program. You might feel frustration because something that was working pretty well is suddenly no longer supported. And what about your existing pop account settings in Outlook Express, plus your existing archive of e-mail conversations. Is all of that lost as well?
Recovering Your Personal Data
If you are reading this *before* you upgraded to a Windows 7 platform, then I have some good news for you: your settings, data and contacts aren't necessarily lost. If you still have access to them in your trusted Outlook Express environment on your 'old' Windows XP platform, then you're good. Also, if you purchased a new Windows 7 computer and still have access to your old computer with Outlook Express, then you can safely copy all your existing data into your new system. You can export / import your personal data from Outlook Express to your upgraded e-mail program.
Chances are, however, that you are reading this *after* you upgraded your Windows XP computer to Windows 7, because it's usually only *after* people realize that there's no Outlook Express for Windows 7 that they start looking for help.
If that's the case, then you are going to need your backup data (The backup copy that the Windows 7 upgrade wizard advised you to make. You being a responsible computer person and all, I'm assuming that you have access to that backup).
In any event, the e-mail program that now replaces Outlook Express for Windows 7 is called Windows Live Mail. You can download it for free on the internet and it has a lot of similarities with Outlook Express, so try not to get too frustrated or confused by the new name of Windows Live Mail, instead try to think of it as the new version of Outlook Express for Windows 7.
In fact, if you follow the link in the previous paragraph, you'll find that it's not only a download for a successor of Outlook Express for Windows 7, but actually, it's a bundle of free programs called Windows Live Essentials (contains amongst others Messenger, Photo Gallery, Movie Maker, Mail, Writer, Family Safety and Windows Live Mesh, plus Bing Bar, Messenger Companion, Microsoft Silverlight and the Outlook Connector Pack.) Since we are only talking about the new incarnation of Outlook Express for Windows 7 here, we'll ignore the other components of the software here and focus on Windows Live Mail only (we can always add other components later on).
Once you are finished downloading the package from the above mentioned link, go ahead and install the program on your Windows 7 computer.

In order to do this, I suggest you run the setup program 'as administrator', which is done by right-clicking the setup file and selecting, well, 'Run as Administrator' as shown in the illustration below: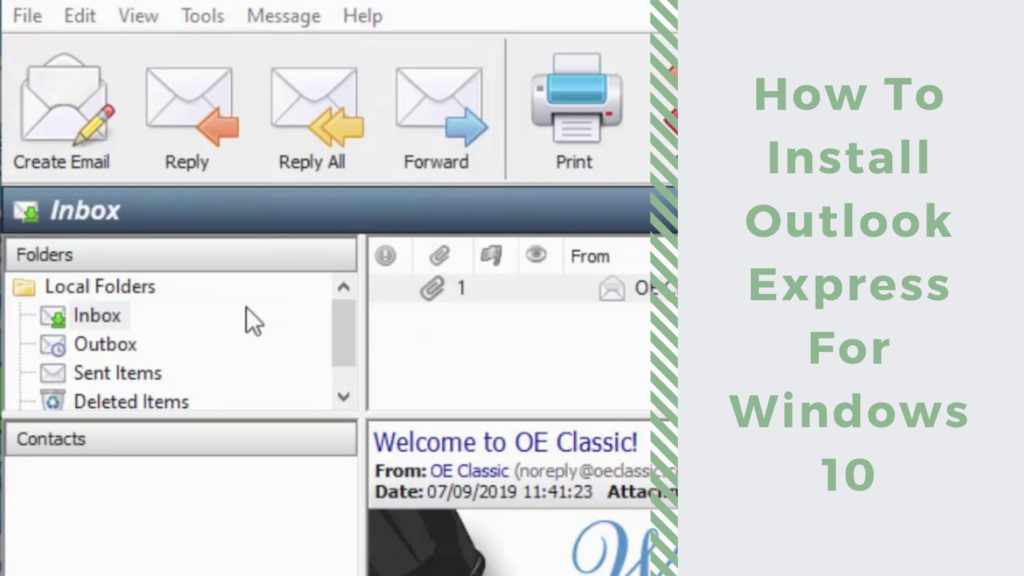 Soon enough after you do that, Windows will want to know whether or not you really wish to run the setup program:
Click Yes to continue. In the next dialog screen you will have the option to indicate whether you're only interested in the successor to Outlook Express for Windows 7, or if you want to install other programs as well.
When presented the above dialog box, select the second option. That will allow you to select only what you're interested in at this point:
Install Microsoft Outlook Express Free Trial
In the above dialog box, select only 'Mail' (this will install the replacement for Outlook Express for Windows 7) and click install. Soon enough you will see the progress bar as Windows installs the software:
And a little later you will be notified that your search for a replacement for Outlook Express for Windows 7 is almost over:
Click the close button and then click on your Windows Start button, where you will see the newly installed software:
Microsoft Outlook Express 5.0 Download
If you launch the program, you will be prompted to set up a new e-mail account so you can start working with your brand new free mail software for Windows 7. We will discuss the configuration of the mail software in a separate article.
To the top of this 'Outlook Express for Windows 7' tip .
With support of Nevio webshops